Since 1934, G&H Towing has provided harbor ship escorts, docking and undocking, in the ports of Galveston, Houston, Texas City, Corpus Christi, and Freeport Texas on behalf of Bay Houston Towing and Suderman & Young Towing. G&H Towing is one of the oldest and most progressive towing companies on the Texas Gulf Coast.
Our crews operate the most technologically advanced towing vessels in the industry today, and we are deeply committed to outstanding safety for our people, our equipment and the environment.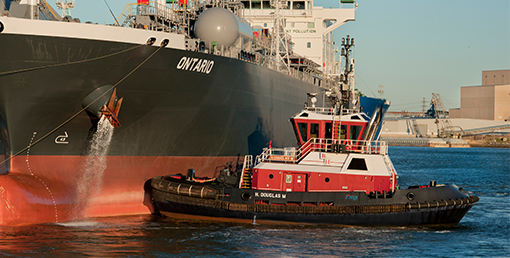 We take safety seriously and are committed to the health and wellbeing of every one of our people. We take pride in our outstanding safety and environmental performance, and we operate under the International Safety Management Code and American Waterway Operators Responsible Carrier Program.
G&H Towing Company has identified safety, security, and the environment as three key areas in its sphere of operations that are of paramount importance and need to be effectively controlled to prevent injuries, loss of life, and damage to health, property and degradation of the environment.
G&H Towing has been operating under a progressive Safety Management System (SMS) since 2005, with oversight from the American Bureau of Shipping and the American Waterways Operators. The key to the success of our SMS is commitment from senior management and a desire to continually improve our operations. By establishing a foundation of guidance and support for the personnel who conduct operations, management is serving the best interests of customers, employees, and the public.
We are committed to fostering a culture of safety through training, awareness, and action. By becoming knowledgeable in safety management and taking appropriate actions to avoid accidents, employees reduce risk and exceed customer expectations.
Subchapter M
Our fleet is governed by the Coast Guard's Subchapter M Federal regulations, with our entire fleet soon to receive Certificates of Inspection (COIs) from the USCG. Prior to the new Subchapter M regulations, G&H Towing was voluntarily compliant with progressive SMS standards, leading to a seamless transition to the new Federal regulations.
G&H Towing crews work on some of the most technologically advanced towing vessels in the industry with more than half of our fleet comprised of modern tractor tugs, including Z-Tech® Tractor tugs.
As containerships and tankers calling on U.S. ports are getting bigger, there is an increased need for larger tugs capable of safely escorting these massive ships. Z-Tech® design incorporates the best characteristics of a true tractor tug and an ASD tug. The powerful ABS Class and Load Line certified tugs offer an impressive towing capability, combined with efficient omni-directional maneuverability. In addition, the advance design of a Z-Tech® tug allows for greater stability of the vessel, which means improved working conditions and safety.
Suderman & Young Towing Company and Bay-Houston Towing Company were some of the companies that pioneered the use of Z-Tech®, with the addition of the Z-Tech® 2400-class (24-60) tugs, ZEUS and CHLOE K, to their fleets. The first of a new generation of Z-Tech® 30-80 tugs, MARK E KUEBLER and TED C LITTON, were added to the fleet in 2018.
The G&H Towing fleet is:
Made up of more than 50 vessels, primarily tractor tugs
The third largest harbor assist tug fleet in the United States
The youngest of any major fleet in the United States
A growing fleet, with new tugs constantly under construction